LEXUS GS300 2006 VLite CarPlay, iPhone Android Smartphone Mirroring, Bluetooth, Backup Camera Kit (LEXGS)
Description
Compatibility
Specs
Contents
Vline FAQ's
reviews
VLine Lite (VLite) enables smartphone mirroring to the factory Lexus screen.
Apple CarPlay
Full Apple CarPlay Integration supported
Touchscreen compatible
Compatible iPhone with USB cable required

Smartphone Mirroring
Mirror your phone to car stereo screen
Use your own phone to project and control apps
iPhone and Android phones supported
Mirror through Wifi (iPhone and Android) or HDMI (iPhone)

External camera support
Rear or front facing analog camera supported
Automatic switching to camera once it is activated

Bluetooth and Wifi enabled
Bluetooth A2DP (wireless) music streaming from your phone
Bluetooth streaming titles, steering wheel control
Firmware updates via Wifi

HDMI
Highest picture quality
Connect iPhone directly via HDMI dongle. You will need add-on Apple Lightning to Digital AV Adapter (sold separately)
Android phone mirroring via Chromecast. You will need an add-on Google Chromecast (sold separately)

USB Support
Play your music from USB stick or SD card
Play iPhone using USB
Track titles, artist, album, integrated controls
High quality sound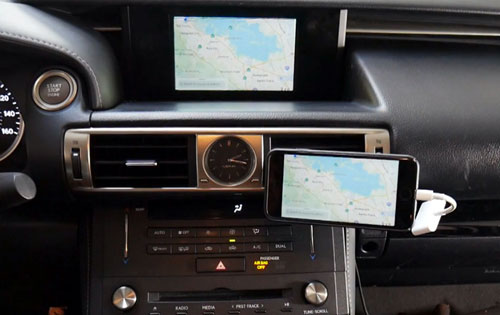 VLine Maps and Apps Car Infotainment System - User Manual
Lexus GX470 2003-2004 VLine VL2 Infotainment System Install Manual
Lexus GS 300/350/430/450H/460 2006

(All)
We strongly recommend providing our team with details of your vehicle such as model, year and any details of the radio system (ideally send a photo of the screen and controls). Whilst this compatibility list is the current best working chart, vehicle manufacturers don't always build with the same specs, especially near facelift model changes!
Quad Core Cortex-A7 MCU 1.35GHz
1GB RAM, 16GB Flash
WiFi 2.4GHz, Bluetooth 2.1/4.0
MicroSD, HDMI/AV1/AV2 in for video and backup camera
USB2.0 x 2 ports
Operating Temperature: -40C - +85 C (-50F - 200 F)
Operating current: < 700mA
Standby current: ~5mA
SN Ratio: 95dB
DAC resolution: 24bit
Distortion: < 0.01%
Dimensions: W / H / D - 120* 160 * 33 mm
Weight: 400g
Enclosure: Silver metal
Standard package includes everything you need for the installation:
- VLite Smartphone Mirroring Kit
- Vehicle specific harness
- Display video cable
- Automotive grade USB cable
- Microphone
- Operation manuals